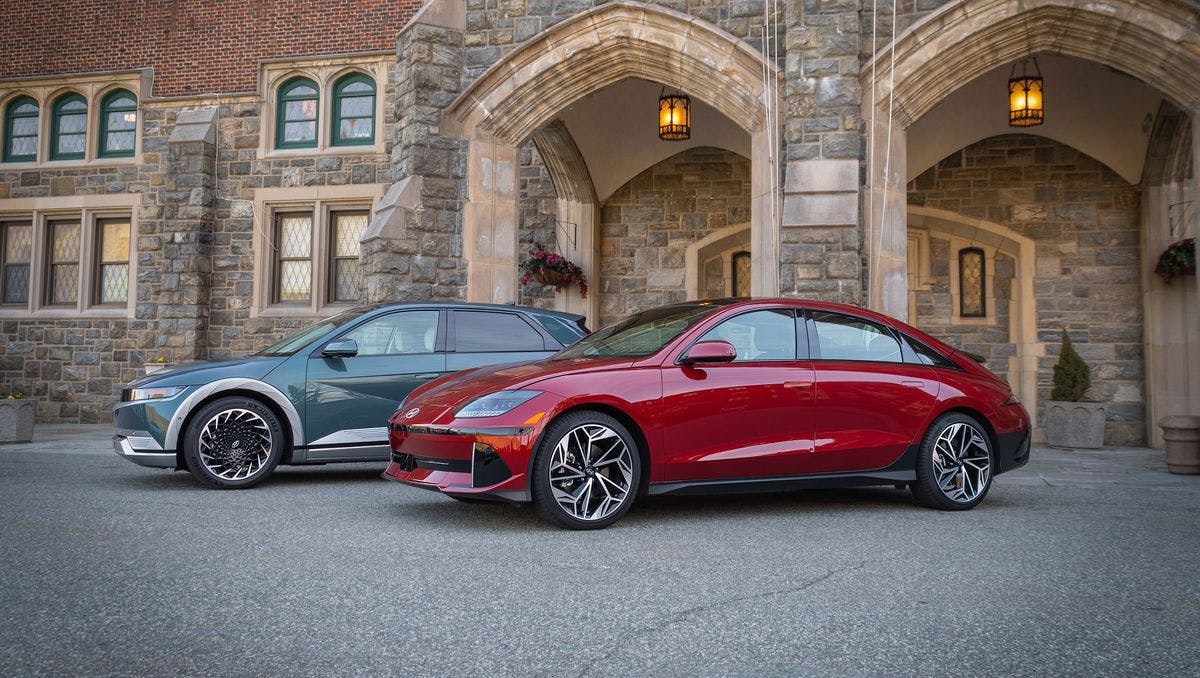 Electric Performance Redefined: Experiencing the Hyundai Ioniq 5 & 6
As the world rapidly transitions toward sustainable transportation, automakers are competing to offer cutting-edge electric vehicles (EVs) that combine advanced technology, exceptional performance, and striking design. In this blog post, we will explore two groundbreaking models from Hyundai's Ioniq lineup – the Hyundai Ioniq 5 and Hyundai Ioniq 6. These vehicles exemplify Hyundai's commitment to innovation, sustainability, and redefining the electric mobility experience.
Revolutionizing Electric Mobility, The Hyundai Ioniq 5, unveiled in 2021, marks a significant milestone in Hyundai's EV journey. This midsize crossover showcases a stunning blend of futuristic design, exceptional range, and cutting-edge technology. One of its standout features is the Electric-Global Modular Platform (E-GMP), a dedicated EV platform that enables impressive performance and flexibility.
The Ioniq 5's design is a harmonious blend of retro-inspired elements and modern aesthetics. Its sleek lines, bold proportions, and unique Parametric Pixel lighting evoke a sense of sophistication. The spacious interior, influenced by the car's dedicated electric platform, offers versatile and comfortable cabin space.
The Ioniq 5 offers a range of powertrain options, including rear-wheel drive and all-wheel drive variants. With its battery options ranging from 58 kWh to 72.6 kWh, the Ioniq 5 achieves an impressive range of up to 300 miles (480 kilometers) on a single charge. Moreover, its fast-charging capabilities allow for up to 80% charge in just 18 minutes, making long-distance travel more convenient.
Inside the Ioniq 5, advanced technology takes center stage. The configurable dual 12.3-inch digital displays provide a seamless and customizable user experience. The vehicle also offers an augmented reality head-up display (AR HUD), an innovative feature that enhances safety and navigation. Additionally, the Ioniq 5 supports Vehicle-to-Load (V2L) technology, allowing owners to utilize the vehicle's battery power for various applications, such as powering household appliances or charging other EVs.
A Bold Step Forward Building upon the success of the Ioniq 5, Hyundai redefines the concept of an electric sedan with the Ioniq 6. This luxury electric sedan exemplifies Hyundai's commitment to pushing boundaries in terms of design, performance, and sustainability.  The Ioniq 6 is the 2023 Winner of World Car Awards: World Car of the Year, World Electric Vehicle of the Year and World Car Design of the Year.
The Ioniq 6 exhibits a sleek and aerodynamic profile with a fastback silhouette. This sedan represents a marriage of elegance and cutting-edge design, featuring clean lines, a low-slung roofline, and minimalistic details. Its appearance demonstrates Hyundai's dedication to creating visually striking EVs.
IONIQ 6 was designed to be the most aerodynamic Hyundai to help give it the highest range of any all-electric Hyundai, at up to EPA-estimated 361 miles. And it's one of the few electric vehicles that can use 800V DC ultra-fast chargers, which can charge the battery from 10% to 80% in as little as 18 minutes.  The available 77.4-kWh battery pack was built for impressive range and power. Double the fun when you go with the available dual motor option.
As a flagship electric sedan, the Ioniq 6 incorporates Hyundai's latest technological advancements. From its two 12.3-inch displays, Apple CarPlay, Android Auto, Dynamic Voice Recognition to 5 USB ports, IONIQ 6 keeps you well-connected with your digital life.
Hyundai's Ioniq 5 and Ioniq 6 stand as remarkable examples of the brand's dedication to electric mobility. The Ioniq 5 redefines the crossover segment with its striking design, impressive range, and cutting-edge technology. Meanwhile, the Ioniq 6 aims to set new standards in the luxury sedan category with its sleek aesthetics and high-performance capabilities. These two models showcase Hyundai's commitment to creating a sustainable future and transforming the EV landscape. With their innovative designs, exceptional performance, and advanced features, the Hyundai Ioniq 5 and Ioniq 6 demonstrate the brand's vision for a greener and more exciting future of electric mobility.
Click Here to pick out your Hyundai Ioniq 5 and 6 at Diehl Hyundai of Sharon!
Back to Parent Page