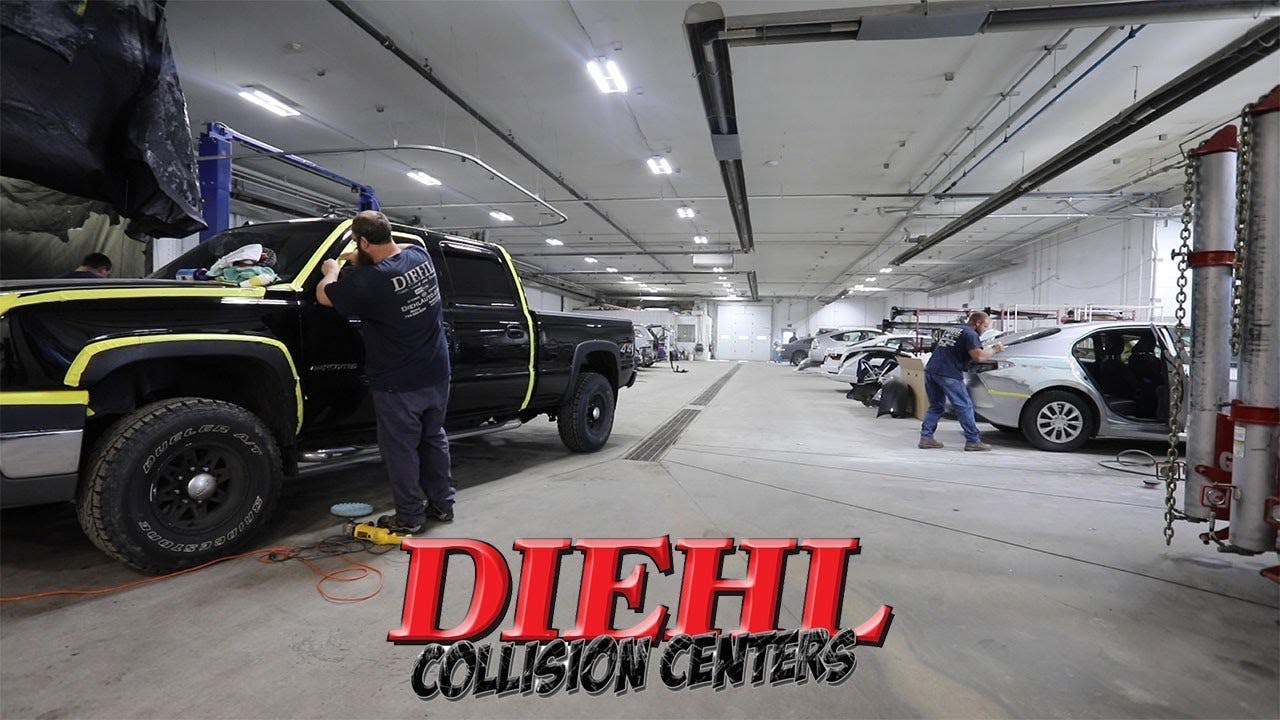 Diehl Collision Centers
Car accidents and natural events are unexpected and can range from just a small dent to extended damage to your vehicle.  Ensuring your health and safety is top priority while the next step is deciding on collision repairs.  That's where Diehl Collision Centers can help!
The Certified Auto Body Service technicians at the Diehl Collision Centers are trained to know every inch of your new or used vehicle. From the smallest door ding to a non-drivable collision, Diehl's Auto Body Repair Centers can help restore your vehicle to look and feel like new. Plus, we offer genuine factory parts so you can leave feeling as good about your vehicle today as you did the day you bought it.
SERVICES INCLUDE:
Auto Dent Removal
Bumper Repair
Fender Repair
Paintless Dent Repair
Auto Paint Repair
Windshield Repair
Storm Damage Repair
BRING YOUR VEHICLE AND WE'LL HANDLE IT
Our professionals at Diehl Collision Center technicians are industry experts. From the initial repair to filing and negotiating claims with your insurance provider, no one provides better service than us.
ON-SITE CLAIM ADJUSTERS
Diehl Collision Centers are some of the only repair facilities in Pennsylvania to offer on-site insurance claims adjusters. Simply bring your vehicle into the Deihl Collision Center, and we'll take care of the rest. From filing paperwork to inspecting the damage, to obtaining the proper insurance approvals, insurance claims are simple and stress-free at the Diehl Collision Center.
DIRECT REPAIR FACILITY
Diehl Collision Centers are Direct Repair Facilities (DRF). Recognized by insurance companies for providing exemplary repair work, Diehl Collision Centers are listed as an approved facility for most major insurance companies. As a Direct Repair Facility, Diehl Collision Centers can work directly with the insurance company to file and negotiate claims, so all you must worry about is picking up your newly restored vehicle.
ON-SITE CAR RENTAL
Diehl Collision Centers offers car rental for your convenience. Simply let us know that you'll need a rental vehicle, and we'll work with you to make sure you are not without a vehicle while we repair your car.
CERTIFIED REPAIR WORK
Diehl Collision Centers stand among the nation's top collision repair centers. Diehl Collision Centers provide the highest quality repairs, using Original Equipment Manufacturer (OEM) parts while providing a written lifetime warranty with every repair. It's this commitment to safety and quality that has earned Diehl Collision Centers as Pennsylvania's trusted collision repair.
SCHEDULE A SERVICE APPOINTMENT  TODAY OR CALL FOR MORE INFORMATION AT ANY OF OUR DIEHL COLLISION CENTERS.
BUTLER COLLISION CENTER
267 PITTSBURGH RD, BUTLER, PA 16002
724-282-6177
PITTSBURGH COLLISION CENTER
5317 CAMPBELLS RUN RD, PITTSBURGH, PA 15205
412-722-1828
GROVE CITY COLLISION CENTER
1687 W MAIN ST EXT, GROVE CITY, PA 16127
724-748-3575
WASHINGTON COLLISION CENTER
1280 BANETOWN RD., WASHINGTON, PA 15301
724-228-7220
CRANBERRY COLLISION CENTER
20811 US-19 CRANBERRY TWP, PA 16066
724-776-1279
FORD CITY COLLISION CENTER
115 VALLEY VIEW DR, FORD CITY, PA 16226
724-763-1333
HERMITAGE COLLISION CENTER
2757 E STATE STREET, HERMITAGE, PA 16148
724-734-2296
MASSILLON COLLISION CENTER
4321 LINCOLN WAY E #2, MASSILLON, OH 44646
330-478-1804
Back to Parent Page