Hyundai Accessory Upgrades
There are several accessory upgrades available for Hyundai vehicles that can enhance their functionality, comfort, and appearance. Here are some popular options:
All-Weather Floor Mats: These durable mats are designed to protect the car's carpet from dirt, mud, and spills. They are easy to clean and provide additional grip for the driver and passengers.
Cargo Liner: A cargo liner is a custom-fit mat that covers the trunk or cargo area of the vehicle. It helps protect the interior from stains, scratches, and spills while providing a non-slip surface to secure items.
Roof Rack: If you need extra storage space, a roof rack can be installed on your Hyundai. It allows you to carry items like bicycles, skis, kayaks, or cargo carriers securely on the roof of your vehicle.
Window Visors/Rain Guards: These accessories allow you to keep your windows slightly open during rain showers, reducing fogging and providing ventilation without letting water in. They also add a sleek look to your vehicle.
Car Cover: If you park your Hyundai outside for extended periods, a car cover can protect it from dust, dirt, UV rays, and other environmental elements. Choose a cover designed specifically for your model to ensure a proper fit.
Sunshade: A sunshade helps to keep the interior of your car cooler by blocking sunlight and reducing the temperature inside. It also protects your dashboard and upholstery from sun damage.
Wheel Locks: Wheel locks provide an additional level of security by preventing the theft of your car's wheels. They are specially designed lug nuts with unique patterns that require a special key to remove.
Bluetooth®/Auxiliary Adapters: If your Hyundai doesn't have built-in Bluetooth connectivity or an auxiliary input, you can add an adapter to enable wireless audio streaming or connect external devices.
Body Kit: A body kit can enhance the sporty appearance of your Hyundai by adding components like front and rear spoilers, side skirts, and bumper accents. It can also improve aerodynamics and performance.
Upgraded Audio System: If you are an audio enthusiast, consider upgrading your car's sound system with higher-quality speakers, subwoofers, amplifiers, or a premium head unit for better sound reproduction.
These are just a few examples of accessory upgrades available for Hyundai vehicles. It's important to check compatibility and quality before making any purchase. You can find these accessories at Diehl Hyundai of Sharon!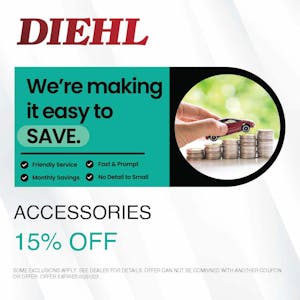 Take advantage of 15% OFF ACCESSORIES until 5/31/23!
Back to Parent Page